A B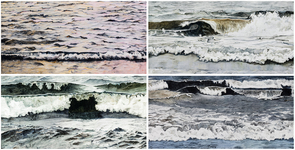 C D
Limited Edition
Commemorative Prints
for the Minnesota Ballet
Commemorative digital prints of the suite of four paintings by Karen Owsley Nease, as featured in Laura Goodman's ballet, Curl, Uncurl and…will be made available as a limited edition to support the Minnesota Ballet. Fifty percent of net proceeds will go directly to the Minnesota Ballet's general fund.

The prints are "giclee" process with Epson archival pigment ink on 100% cotton Sunset art paper. They are signed and numbered by the artist and come with a certificate.
Prints may be collected in two ways:
Option A) a set comprised of each of the four prints, each sized 9" x 18" and individually framed. Edition limited to 25 sets.
Unframed price including tax: $600
Framed price including tax: $1300
Option B) prints of individual paintings sized 12" x 24. Edition limited to 100 per painting.
Unframed price for individual print including tax: $190; all four for $700
Framed price for individual print including tax: $450: all four for $1700
Shipping (available for unframed prints only): $20 per order, free for pick-up in Duluth.
Framing is archival museum quality matting and frame which were chosen to beautifully complement the image. Should you choose other framing, Lizzards Art Gallery and Framing of Duluth, is offering a 20% discount on framing for any print purchased for this fundraiser.
To purchase prints, please email karen@karennease.com.